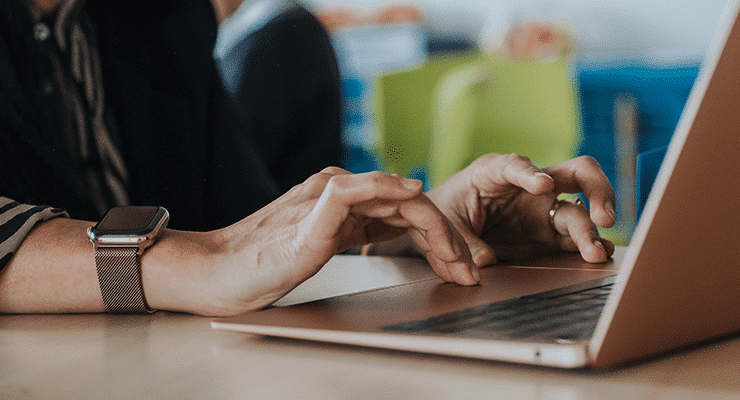 Reviewing your Cyber Security?
Sync are working with businesses across the UK to review and enhance their Cyber Security. We focus on everything from device, network and infrastructure security, through to your processes and policies, to make sure that your digital data is secure.
SMB in the North West? We're providing FREE Cyber Security audits. Book your free Cyber Audit today, or read on to learn how our Cyber Audits work…
Enhance your Cyber Security
Work toward certification
In order to ensure that your business is secure against cyber attacks, Sync undertake a comprehensive audit of your full tech estate. This includes exploring how firewalls are being to secure your device, understanding whether devices have been configured securely, if malware protection is in place, and whether or not your tech estate is being kept up to date through the application of patches. These key elements represent the most common cyber threats posed to businesses, as outlined by the National Cyber Security Centre (NCSC).
Organisations across the UK, including Public sector organisations are reviewing their cyber security practices, and inline with this – whether their suppliers follow robust cyber security practices. Over the last 12-18 months, we have seen a surge in organisations now requiring that their suppliers demonstrate and evidence their cyber security protocols, often during the supplier on boarding phase, or as an annual review. Above and beyond this, many public sector organisations now require their suppliers to hold a current and valid Cyber Essentials certificate as a minimum.
Work Toward Certification
Cyber Essentials is a cyber security scheme, backed by the National Cyber Security Centre (NCSC). Through Cyber Essentials, organisations can gain certification for their cyber security practices. There are multiple levels in the programme:
Cyber Essentials Basic requires organisations to work through a self-auditing process, in which evidence is then provided to an accrediting body for certification.
Cyber Essentials Plus however, takes this one step further, and includes some additional checks, as well as the requirement of an onsite audit from a third party.
Sync work with organisations to help them prepare for their Cyber Essentials certificate, supporting from initial discovery, alignment of cyber security practices to the Cyber Essentials framework, and providing support with the application.
If your business is based in the North West, and you would like to arrange a free cyber security audit, call or message us today – our phone number and email address are listed below.