Back to News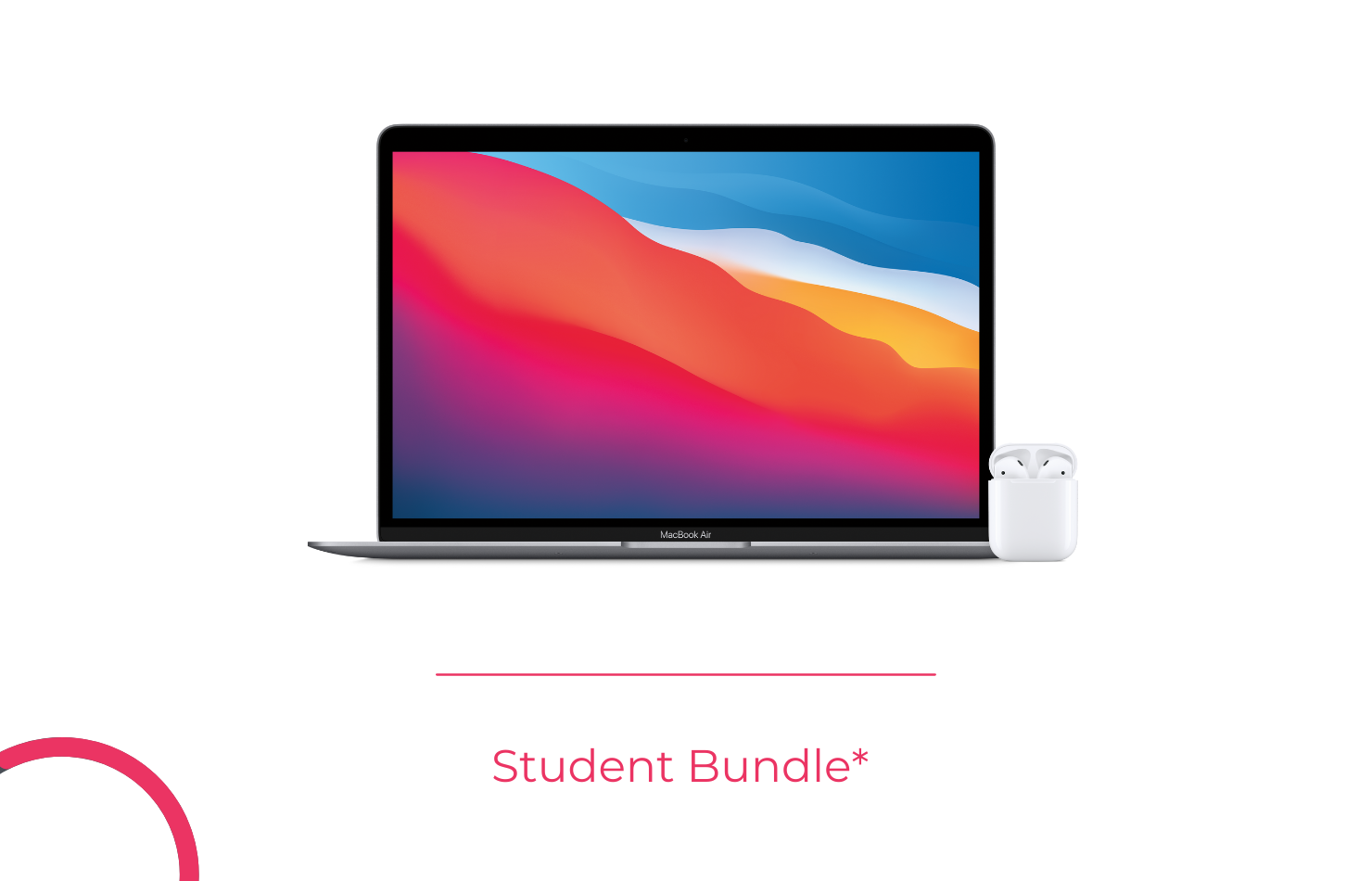 A Back to School Bundle you don't want to miss out on!
It's that time of year again. New students are scrambling for reading lists, and making sure they have all the things they need for move-in day – current students aren't faring much better! Some are looking forward to starting their courses, while others are more excited for freshers' week. Either way, the mix of stress and excitement can be overwhelming, but we've got something for you that's sure to alleviate some of that pressure and get you excited about going back to school! 
We have an offer exclusively for students to help them get back in sync – powered by Resync, our refurbished technology programme. All this comes in the shape of a bundle that includes everyday Apple favourites to get you through the academic year.*
What's included?
Mac
Is the prospect of all those late-night library sessions already keeping you awake? Stress no more about outdated computer systems, and bring your very own Mac to power you through those all-nighters. And with the free word processor Pages ready to install from the App Store, writing essays just got more bearable! 
If essay writing isn't your thing, Numbers is the best app for producing powerful spreadsheets, while Keynote allows for the creation of unforgettable presentations to wow fellow students and professors alike. 
All this coupled with the portability of Mac makes it an essential tool for surviving university. Take notes in class, write your essays on-the-go, and relax at night with a reliably smooth system to run all your favourite apps and websites to help you unwind at the end of a busy day. 
Protective Sleeve
University can be a busy place, but make sure not to get so wrapped-up in student life that you neglect to take care of your Mac. 
Prevent nasty scratches and disastrous drops with a nifty sleeve to keep your Mac protected throughout the year. 
AirPods
Always on the move, but keep on forgetting your headphones? Apple AirPods are the perfect solution, fitting perfectly into your pocket so you never have to be without access to your favourite music again. 
There's also the knowledge that you'll never have to struggle untangling your headphones before every use with AirPods, but we don't have to tell you that. 
Bundle Options
You deserve the best to get you through your university career, no matter your budget!
Option 1: from £430⁺
Option 2: from £749⁺
Option 3: from £749⁺
Option 4: from £749⁺
The Perfect Student Bundle
All of this could be yours starting from only £430, and it's exclusively in-store, so pop on down and grab yours today. It's the perfect back to school bundle, so don't miss out! 
Want to know more about our student offers? Check out our Student and Teacher Store, or email us at hello@wearesync.co.uk and find out what we can do to get you back to school in style.
*Valid Student ID required
⁺All devices provided are refurbished through our Resync programme. Offer subject to availability. Price listed is for the entry-level model of each device, other models and configurations available at an additional cost.